CAT SKI & BACKCOUNTRY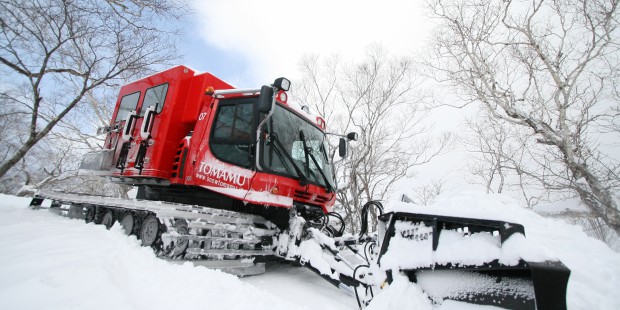 CAT SKIING
Cat skiing (or Snowcat Skiing) is a form of off-piste, backcountry skiing whereby riders are transported up the mountain in a snowcat, rather than hiking or by chairlift. Cat skiing enables participants to enjoy the vast mountainous terrain and untouched powder; features often difficult to replicate at highly-maintained ski resorts.
OTOE POWDER CAT




Otoe POWDER CAT is based in the Asahikawa area of Hokkaido. The mountains are a fantastic mix of long open runs and Hokkaido-famous tree runs. Otoe is colder than Niseko, so bring your woolies and expect powder that is light and dry. Tours begin at Appleland Yama-No-Eki Otoe, which can be accessed from Asahikawa city in 45 minutes by car or taxi or with a free shuttle bus from Niseko (Possible Asahikawa-Otoe buses for 16-17 season).
GROUP TOUR
| | |
| --- | --- |
| Time | 8:30-16:00(incl lunch break) |
| Age | 13 yrs + |
| Level | Intermediate + |
PRIVATE TOUR (group up to 12 people)
| | |
| --- | --- |
| Time | 8:30-16:00(incl lunch break) |
| Age | 13 yrs + |
| Level | Intermediate + |
Contact us for reservations or inquires
Tomamu Powder Program Cat Tour

Tomamu offer two Cat Ski Tours; one during the winter season (early January to early March) and the other during spring (early March to late March) and are held on weekends only. Both are aimed at expert/advanced skiers and snowboarders and held in the Mt. Karifuri area, located 20 minutes away from the main resort. *
| | |
| --- | --- |
| Tour Time | 8:20AM – 4:00PM (Total: 7 hours 40min) |
| Assembly Point | The Tower |
| Capacity | 13 (Minimum of 4) |
*Reservations must be made at least 7 days in advance
Contact us for reservations or inquires
Alts Bandai Cat Ski Tour
Weekends Cat ski tours are offered, with charter cat tours also available on request.
Contact us for reservations or inquires
Other Resort Cat Tours
These include:
Sumikawa Snow Park
Niseko Iwanai International Ski Resort
Yamaboku Wild Snow Park
BACKCOUNTRY TOURS
SPRING – THE BEST TIME TO GO!
You may not know it, but spring is one of the best times to ski and venture through the great Japanese backcountry. A big factor of spring backcountry is the weather. With many backcountry tours unable to operate during the winter due to dangerous conditions and heavy snow, spring brings a breath of fresh air with more sunshine and clear skies so you're less likely to hit bad weather. It also means less people, crowding and line-ups!
Asahidake
Yoshi Wada
A personal friend of founder Hiro, Mr. Yoshi Wada is a renowned professional adventurer and extreme skier. From being the first to ski down the Matterhorn in Switzerland to sliding down Vinson Massif in Antarctica, Yoshi is no stranger to the snowy elements. He offers a number of guided tour services at fields including Kagura and Asahidake.
A number of other guides offer similar services in the Asahidake area:
Hokkaido Asahidake Powder Guide Totori
Specializing in backcountry tours, Totori offer several tour services which span the greater central Hokkaido area including Asahidake and Furano Ski Resort.
Natures: Outdoor Life Support
Run by local guide Shinya Nakagawa, Natures offers two tours which make the most of the Asahidake area and powder: a backcountry tour which looks at exploring the natural landscape and slopes, and an off-piste tour which uses the Asahidake Ropeway with freeride snowboard options also available.
Contact us for reservations or inquires
Mt Hakkoda Guide Club
Situated in the middle of the Tohoku regions' Aomori Prefecture, Hakkoda Guide Club offer day backcountry tours from mid-December to mid-May. Mid-winter months (December to early March) will mainly consist of powder runs, while early-March to May will be spring ski and snowboard tours. Access is usually through the Hakkoda Ropeway, with backcountry areas concentrated to the slopes such as those surrounding Tamoyachidake, Maedake, Akakuradake, Idodake, Odake, Kodake, Takadaodake and Iodake.
For more details (Japanese site only)
http://www.hakkoda-gc.com/ski_snowboarding.html
Contact us for reservations or inquires
MADARAO: NORTH Nagano Outdoor Sports Backcountry Tour
Tours are catered for you and the best areas for skiing are selected on the day by guide and founder Hiro's personal friend, Mr. Aki Kitamura as per the weather. Tours are offered from mid-January to late March and include either half-day or whole day tours.
For more details
http://naganooutdoorsports.net/index.html
MYOKO: Myoko Snowsports Multi Resort Powder Programs
Two tour options are available suitable for intermediate to advanced skiers. The Peak to Peak Program is catered for the more advanced/expert skiers and lets you experience the several mountains which make up the resort.
For more details
http://www.myokosnowsports.com/
High Five Mountain Works
Based in Gunma Prefecture, High Five Mountain Works are a mountain lifestyle and leisure guide club who offer amazing backcountry opportunities all across Japan, including Mt Fuji! Many of these tours are limited to spring only (as late as mid-May) due to weather conditions. Areas are split into 4 levels, based on backcountry experience/skill level necessary, steepness, and the degree of physical demand. Higher levels require longer hike times (Level 4: 4-6 hours) compared to lower levels (Level 1: Lift access -1 hour).
For more details (Japanese site only)
http://highfive-mountainworks.com/course/oneday.html